A big part of our work at Peopleizers is to educate people and to help them solve problems related to their new/social media engagement. Most of the time the challenges of clients from different organizations are the same. Therefore we have created a new educational format for professionals. It serves their urgent need to stay up to date in this fast moving space. It is simply not enough anymore to wait for the next big conference or workshop. Professionals need to get expert advice on a more regular basis.
Read more about "Gurcles" in this interview conducted by dozeo – a tech startup from Stuttgart which provides software for online meetings and webinars. We have started using their tool for our webinars a few months ago.
Question: What does Gurcles stand for?
Gurcles is a combination of "Gurus" and "Circles". It´s all about coming together in a group (Circle) and get advice from experts (Gurus).
Question: Is this service open to the public?
Right now it´s a pilot project which I offer exclusively to my network of clients and business partners. They asked for a more practical and effective way of staying up to date beyond conferences and workshhops. However, it might become a service which is open to the public. If you are interested you can sign up at www.gurcles.com!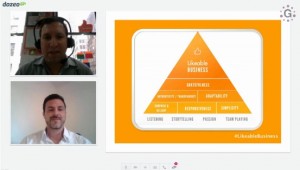 Question: Which benefits does this concept offer?
Besides saving time and money for our clients we offer a high quality experience. Only the very best experts join us. We have limited participation to +/- 15 people per session to secure a direct exchange with the experts. We are working with top notch leaders only: Brian Solis, Ted Rubin, Dave Kerpen just to name a few. You can watch a summary of the last session: 1. Return on Relationships with Ted Rubin, 2. Likeable Business with Dave Kerpen.
Question: How did you come up with the idea?
My clients asked for it. They wanted to learn more about the latest trends and topics and exchange experiences with like minded people who have to deal with the same challenges. The new media scene is very dynamic. as we all know. There are changes almost every day. Marketers and their agencies need to react to these changes immediately. So it´s not enough to attend 1 or 2 conferences per year to stay on top of things. Overall it´s no magic: I just bring together people with the same problems and the experts who can help them solve these problems. And of course they don`t need to spend a fortune each.
Questions: Why did you choose dozeo for your webinars?
I was searching for a tool which was easy to use, looked good and which was state of the art. A friend did recommend dozeo – so I tried it and it worked great for me. Another reason for choosing dozeo was their attractive pricing. I pay only 9 Euro per month for Solo account which is one host with one meeting room. Enough for what I do at the moment.
Questions: Which features do you like most for your webinars?
The dozeo business app, the adimin panel, is simple to use and very clear. The meeting room itself is beautiful and very intuitively designed. I love the integration of video streams and files on the stage because I can position them the way I want. The whiteboard function is useful as well along with the screen sharing which allows me to present tools and what ever I want to show during a session. For my webinars with +/15 participants it works great.
Question: Would you recommend dozeo to others?
I work with dozeo for a few months now and I am quite happy with it. The tool is improved all the time and gets better every week. dozeo takes user feedback very serious and optimizes things quite fast. For example they do work on a recording feature based on my feedback. I also did surveys with participants of my webinar and they liked it, too. Back to your question though: Yes, I would recommend dozeo to other people – even beyond webinars. It did replace Skype, Webex and Co in my business.
One last thing: The next Gurcles webinar wil take place July 4th. We are very happy to present world-class expert again. Read more 
here
.
Disclaimer: Eleftherios Hatziioannou, founder and CEO of Peopleizers, has recently invested in dozeo and supports the startup as advisor and evangelist.