The Social Media Awards (#smagr) took place on October 10th. The awards were given to Greek brands and agencies for the very first time. Eleftherios Hatziioannou – founder and CEO of Peopleizers – was part of the international judging committee which evaluated all entries in the past few weeks.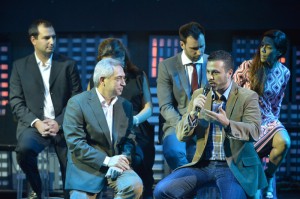 Lefti's statement after being part of the jury and attending the award ceremony in Athens: 
"In 2011 I spoke for the first time in Greece about Social Media and the impact it has on marketing. During my speech at the Online Marketing Conference 2011 I had to prove the relevance and the reasons why brands and agencies should embrace the change. I still had to convince the audience that they should move forward in this space dedicating resources to their social media engagement. Only 2,5 years later I had the honor to be part of the jury which evaluated the best efforts in this space. I am impressed by the work I have seen and the results that have been achieved. This is even more impressive to me – if you look at the context: The Greek economy has gone through hell in the past few years and a lot of businesses struggled to stay alive. Agencies and service providers had to work hard and with limited budgets. I want to congratulate all brands and agencies who didn't stop, but took this opportunity. Every single award is well deserved." 
We've asked Lefti to also give a few comments on the state of social media marketing in Greece and what he believes the next logical step should be:
"Change takes time. Although we've seen some progress and more and more engagement in social media, there's still a long way to go. Most of the work that has been done in the past years had to do with building a presence and the respective communities which is the ground work. A lot of the projects still had a very strong "media" focus applying the typical old school approach of measuring success. It was more about how to reach more people, how to grow the number of likes, subscribers and views, etc. This is a good first step, of course, but there is a reason why it's called SOCIAL media. Looking into the future – I hope that everyone goes back to work now and goes deeper in what it means add more "social" into social media."
Some questions to ask yourselves when working on your social media engagement of the future:
Who is our target customer and what are his/her needs?
How can we listen more carefully? Yes, listening is as important as talking!
How can we serve this customer better by using the social technologies available?
How can we be closer to our customers and build stronger relationships?
Which content adds value to their timelines/lives and how can we co-create it?
Which tools/services can we offer that are useful to our communities?
How can we make our communities part of our R&D team?
How can we turn satisfied customers into brand ambassadors?
etc.
After all, it's not about us (the brands), it's about them!
So next year we hope to see even more great efforts who take the logical next step and focus more on the "humans" behind each account again. Another contest and game might be fun, but we're missing a much larger opportunity here:
To build customer relationships that last and increase the customer lifetime value by providing exactly what people need and ask for.
It's not about going broader, it's about digging deeper!
Congratulations also to the Boussias team for organizing such a great event and also taking this bold step to initiate this award. It's not a given that all of this happened in the midst of a financial crisis. Keep it up! You can find some impression of the event here. By the way: find a list of all winners on the official #smagr website.