One thing about kicking of the year with such a great guest is that it sets the bar quite high. But it doesn't matter – we love the challenge! Brian Solis is a digital strategist, futurist and author of several books. He is also Principal Analyst at Altimeter – a leading consulting and research company. Brian is leading the way into the digital age for years now and his opinion is well respected around the world. It was our great honor to host him in our last Gurcles session to discuss "The Future of Business" which happens to also be the title of his latest book.
Brian made some great points during the session which you can watch in the video accompanying this post. However, one of his statements particularly sticked with me:
"If in doubt, begin!". What does it mean?
This is a statement he makes in one of the graphics of his book (created by Hugh McLeod by the way).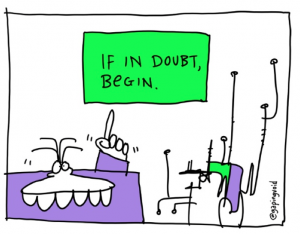 What it says is that in today's fast moving marketplace it is important not to wait until you have a template and some best practices to copy and follow. We all have to move forward – even when we don't have all the answers yet. We need to strive to become the shining examples ourselves. Change is happening everywhere and in a faster pace than ever before. There's no time to play safe and those who dare to "begin" can reap the sweet fruits of success.
I truly believe that this is exactly what change agents do. They lead the way – even when they don't know which way to go.  Why don't you try be one within your team and/or organization in 2014? My personal motto for this fresh year is: "Talk less. Do more." It comes from the same angle. I don't want to wait until I am perfectly prepared and I don't need to discuss everything to the last detail. I want to do more instead trusting in my own instincts and capabilities and the people around me. It's about feeling confident that no matter what will happen I will figure it out or I will learn a valuable lesson.
Too many times great ideas get stuck or die, because the first step was never made. I've had a few million dollar ideas in the past – ask my friends and network about them, but I never started working on them. Don't let this happen to you and your dreams. Try more, dare more and yes, fail more this year- it's what live (and business) is all about anyway. What doesn't kill you, makes you stronger – they say. It's true – I've never felt stronger than today!
All the best for 2014. 
Lefti