This post was inspired by a lady who reached out to us today all the way from New York. She send a message to share her thoughs and summed up what Peopleizers stands for to her. This is what she said:
"…technology and people have crossed and these changing dynamics are exponential. We can forget so easily what really matters because the focus is on the new technologies. People take a back seat. Your message to me is that despite the technological tools available – now more than ever we cannot loose sight as businesses, that it is always about "people" and keeping it humane and compassionate is the only way… the technological social platforms are merely tools to help keep us connected because we are social beings."
And she is absolutely right with it! With all the new and emerging technologies we are spending more and more time online. According to a Nielson report people spent 53 billion minutes on Facebook in May 2011 alone. We connect on Linkedin, make friends on Facebook, follow each other on Twitter, etc… but there is a danger that comes with it. The danger of being completely disconnected at the end of the day. We  (at Peopleizers) are "heavy users" ourselves and it can be difficult to keep the right balance – we know that.
It is important to understand that behind every profile, blog post or account there is a real human being with basic human needs – no matter if we`re talking about a social media manager managing communities, a customer complaining on a Facebook page, a fashion blogger posting about the latest trends – we are all the same! Social beings who long for real human connection and love.
6 things we all should keep in mind while using social technologies:
The world is a village: Use social technologies to keep in touch with people  – especially those far away from you.
Sharing is caring: Share what matters to you with whom matters to you and spread the word.
Be authentic: Make sure that your on- and offline personality is the same. Be your true self.
Make it real: Build a bridge between your "virtual" and your "real life". If you can meet people in person. Do it!
Connect people: Whenever there is an opportunity to introduce people to each other. Be a mediator.
Digital fasting: Take a break every now and then. Spend some time far away from Wifi and your smartphone.
When it comes to brands and branding we highly recommend to also keep this things in mind. Especially the part of being authentic matters a lot. Create a brand experience that is authentic. What fans see on Facebook should match what customers experience in your shop. Also try to add some personality to your content and communication. In the best case there are real employees out there – giving your brand a face.
Little things can do magic – if they are used right. Understand that you are dealing with human beings with basic human needs. We found a simple but great example today at the Nutella Facebook page: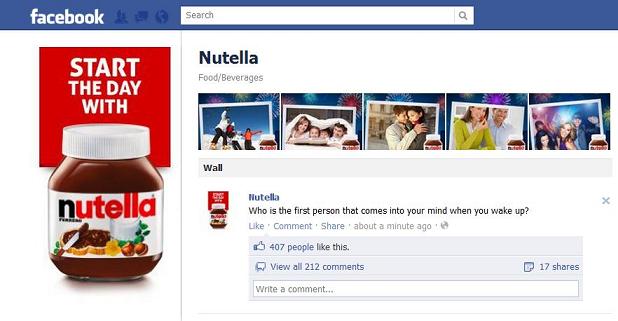 This post might seem trivial but there is something about it. See how this post is speaking to the heart of people. Listen to the real life story behind it. Imagine how many people are touched by this question which brings their loved ones to their memory. And this is it! Simply beautiful. Brands need more content like this because by fueling the human soul with positive emotions brands can go beyond broadcasting. They tap into a conversation of love and build emotional bonds and loyal customers. At the end of the day such relationships will create transactions. As simple as that.
Let`s use this blog post as a little reminder to all of us: To use technology wisely as a facilitator and a means to fuel re(a)lationships. Let technology work for you and not work you.
In the featured image you see Eleftherios Hatziioannou (founder of Peopleizers) and Nathaniel Hansen (CEO of The Socializers). And this is the story behind the picture:
We met on youtube! Nathaniel watched an interview of me with Brian Solis – a thought leader in the new media space – and reached out to me to congratulate. 2 weeks later he did an interview for a Greek marketing magazine with me about social media marketing. Another 4 weeks later we met at a conference in Athens where we both spoke on complementary topics. Since then we are in business together! The picture was taken in Sofia (Bulgaria) last October – where we spend a few days together working on multiple projects and preparing yet another conference where we spoke as a team on stage.
I think this is a pretty good example of how "real" the social web is – if we use it wisely. We made a new friend and business partner. For real! If you want to see us on stage visit our youtube channel.
Lots of love to all of you. Thank you for being around. We really appreciate your support!