We had the pleasure to be at SXSW 2013 in Austin, Texas. For those who don't know SXSW, it's probably the coolest event in the tech and new media scene right now. It started as music/film festival and for several years includes an interactive part, too. Thousands of geeks, tech and new media companies, startups and founders make a pilgrimage to Austin every year. The city becomes a melting pot of techies, cowboys, artists and locals. You will find the full programme here.
What happens at SXSW?
During the day a lot of great sessions, workshops, keynotes, exhibitions take place in and around the Austin Convention Center and later at night Austins turns into a party scene. The whole city is occupied. It is also a great platform for startups and new ideas to reach first movers/ early adopters and find allies or investors. Some of the most popular success stories launched during SXSW are Twitter and Foursquare. What is also guaranteed is that you will experience a lot of weird things and people. From human wifi  hotspots, mobile charging stations, cars turned into rabits to yummy food trucks and creative event locations. We've seen it all there.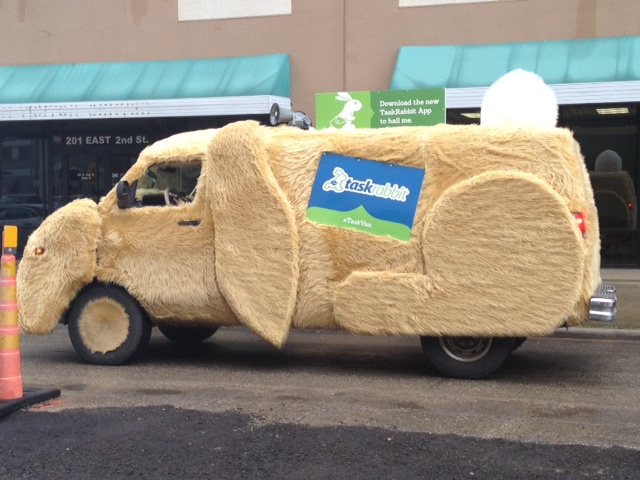 The most interesting part besides the great lessons you can learn in the huge amount of sessions is that you will meet amazing and open minded people. No matter if you sit down for a break or stand in line for the next sessions – you will easily get into conversations with other people. Most of the times these people are very valuable contacts. The organizing team has also done a great job to improve the overall experience and quality of the event. Besides an impressive line up of speakers, you can download a mobile app to get the most out of the event or join the SXSW community to be in touch with interesting people before and after the event.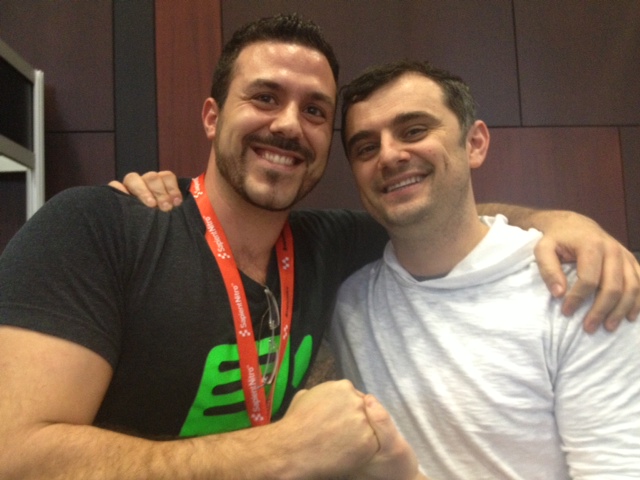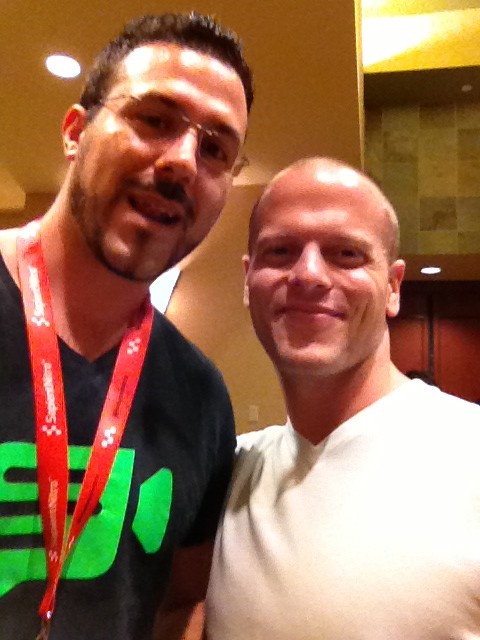 We asked Eleftherios Hatziioannou (aka Lefti) some questions about this year's event:
What's the key take away from this year's SXSW and what's worth sharing with colleagues/clients?
There has never been a better time to be a marketer: we've got the technology and tools, we've got the data. Now it's time to listen more and then act. In the right moment, in right place, in the right context, with the right message. How much more precise can marketing become? On another level we are moving from Push to Pull marketing. Brands become publishers. Publishers become dynamic storytellers. At least the ones who will win. There is absolutely no reason for spending stupid marketing dollars for traditional tactics, e.g. buying media to disturb as many consumers as possible. Budgets should be spent on hiring great teams, improving your products/services and building strong relationships instead. One relationship, friend, follower, fan, customer at a time. Also, forget your annual marketing plan, say hello to realtime marketing. Make sure to watch this interview of Ted Rubin to learn more about "Return on Relationships" as he named it.
Which was the most innovative technology this year that could bring a revolution/significant change in the communications and/or marketing industry?
I wouldn't say that we've seen a lot of completely new stuff at SXSW– we've just seen more mature trends that have prevailed in the past months/ years, e.g. services become more tailor made and personal by using the social/interest graph; mobile becomes the new default: don't even think not to go mobile with your next campaign; big data are used to improve services/products and of course marketing decisions; location based services become hyper local services combining geo data with other services. In general we've seen more players in each of this categories which makes the marketplace more competitive.

What was particularly interesting/ surprising?
What I found perticularly interesting was that Foursquare is turning from a gamified location based service into a data company. Their CEO mentioned during a panel that their data (billions of checkins and millions of locations) are available to the public and tens of thousands of developers already use these data as a local data feed for their platforms. Imagine what this could be used for. Think of maps which don't look the same for everyone, but are fed with locations which are relevant to you based on your network. No map looks the same. It's rather personal.

Something we've put in our watchlist especially for countries with high twitter usage is a new service called nestivity. It allows you to talk with your Twitter following and not just at them. You can dig deeper into your following and create more engagement and discussions around tweets. You can also manage this little communities collaboratively via a comprehensive dashboard. Sounds cool, ey? Read here what Robert Scoble says about this new service.
We also used two new apps. One is Brewster – the new generation address book. It integrates all of your contacts in one app and let's you play with the contacts by adding them to specific lists. It also gives you some predefined tools such as trending, near you, out of touch, etc… Another service is Here on Biz – an app that uses your Linkedin contacts to create "opportunities". You can see who is around you. Either when you travel to new places where you can see local contacts or when people visit your location. They use the Highlight concept – just for professional contacts. Highlight launched last year already and has not gone too far yet. Let's see – if one of these apps will make it to epiphany.

Here's what else we've observed this year:
Social media has become mainstream. It's built-in by default. You have to be "social" or die.
Here comes the cloud. Everything works in the cloud. It seemed that every second exhibitor had something to do with cloud services.
Here comes the niche, e.g. services for creative professionals, artists, etc. made their way to epiphany
More mobile payment solutions pop up to challenge Square and other payment solutions.
People loved Google glasses and developers can't wait to get access to their planned API
Social commerce reaches the next level with smarter and more refined solutions, e.g. yappem
API's everywhere. It seems that every service opens up.
Big brands create eco systems rather than products. It seems that everyone learned from Apple, Nike, etc.
Corporate giants start their own accelerator programmes and incubators to benefit from the startup "drive"
Are you  more of a visual person? Pictures speak louder than words. You will find an album with our impressions of SXSW 2013 here.
Did we miss something important? Have you been in Austin yourself? What was the most important stuff for you? Feel free to add your findings and key take aways in the comment section. We don"t claim to be complete. This is just our view on what happened at SXSW 2013. We are looking forward to see the most interesting stuff through your eyes. Please share your findings.
PS: After SXSW is before SXSW makes sure to get your badges in April/May and look for accomodation well in advance. You will save a lot of money!